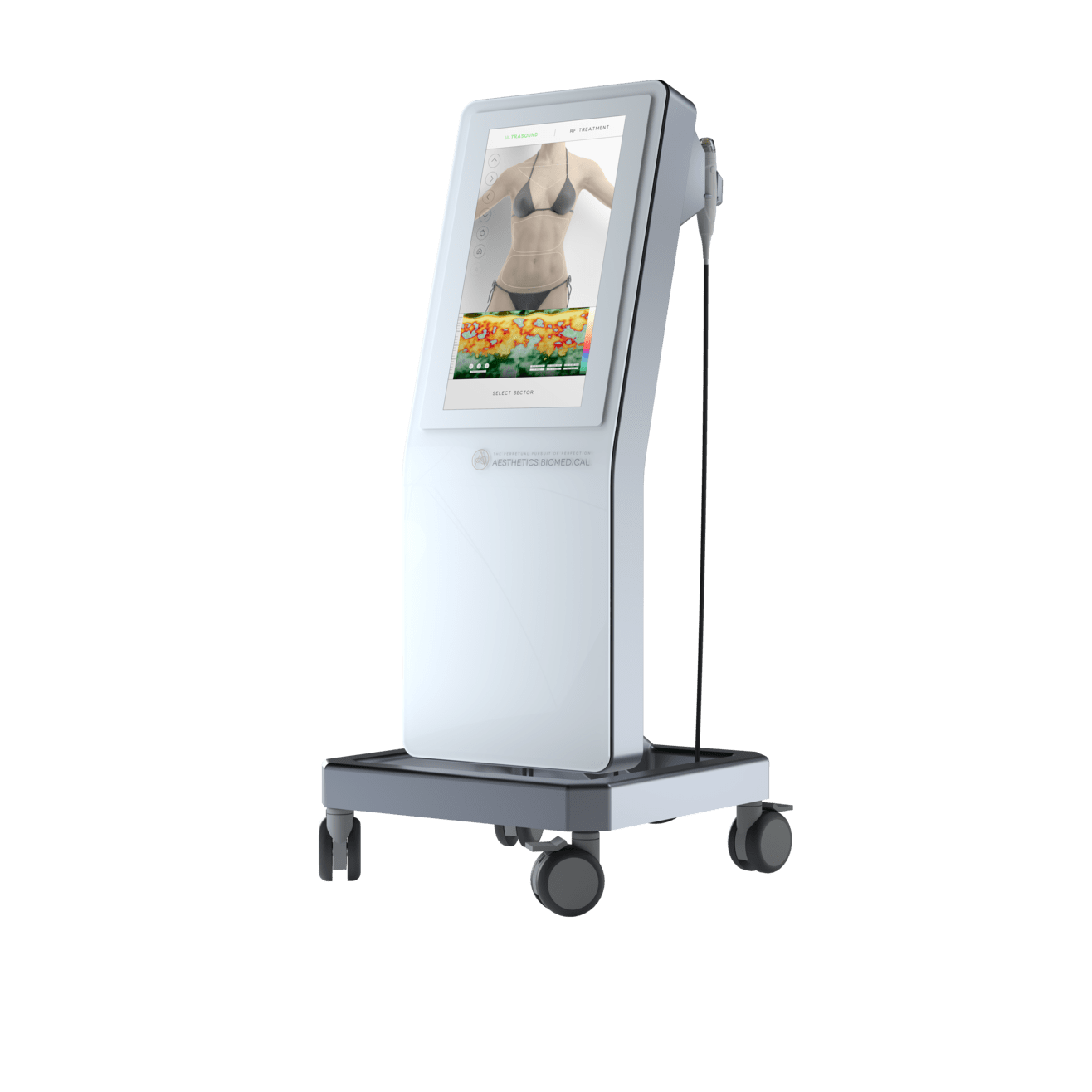 The Vivace Experience® is the Difference
Let's Face It! We want to look our best at any age — not over-filled and overstretched, just natural. We want to age gracefully, beautifully, and elegantly. Inevitably, fine lines and wrinkles set in, and now with breakthrough technologies such as radiofrequency (RF) microneedling, there are simple, minimally-invasive treatment options that will address skin concerns and have you out to dinner that same night. Microneedling is an excellent minimally invasive option for patients looking to rejuvenate their face, and the Vivace Experience® is more than standard microneedling. The Vivace Experience® uses the newest generation of radiofrequency microneedling to give patients customized, optimal results.
Get started today and face the mirror with confidence.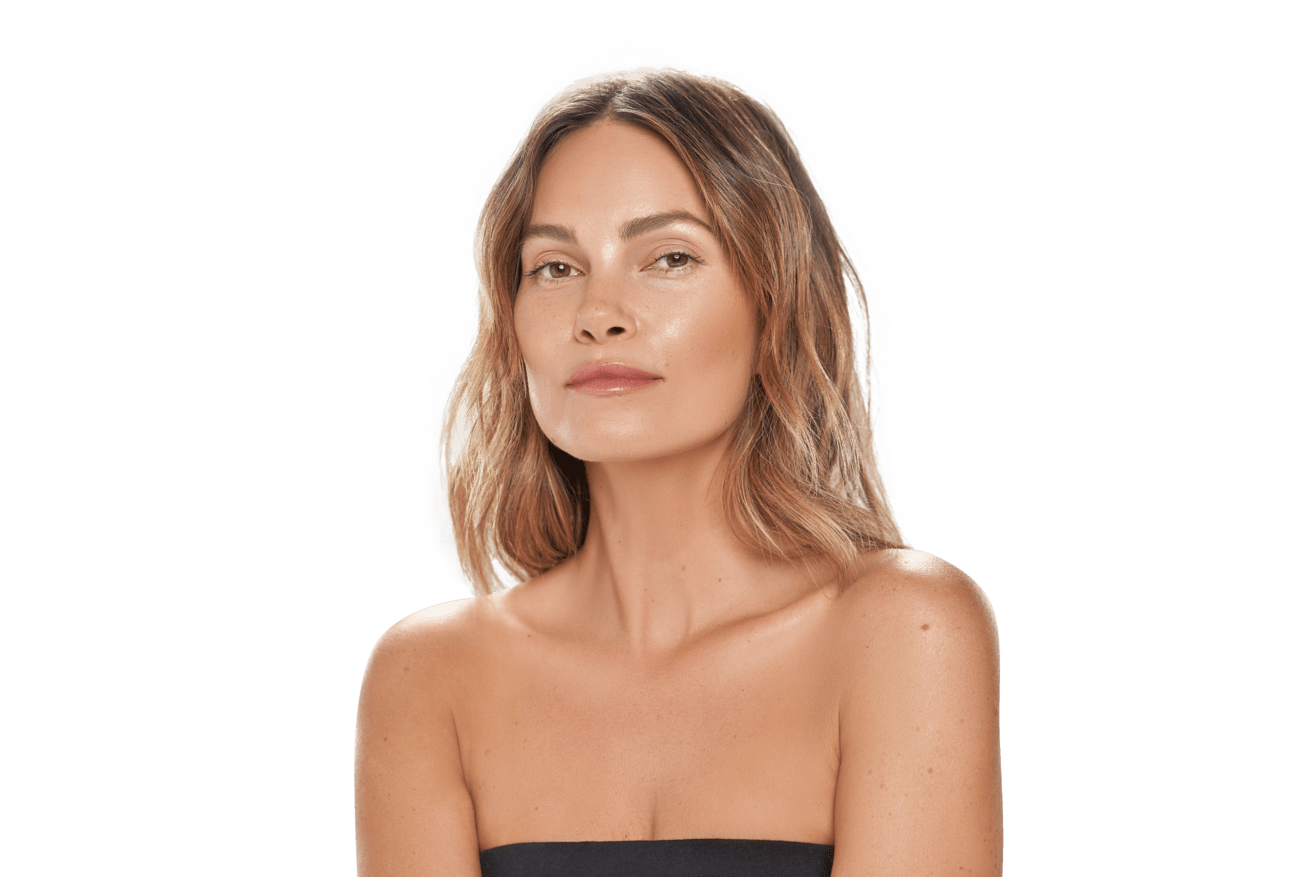 While microneedling is one of the most trending beauty treatments for patients worldwide seeking to rejuvenate their face, skin and body to address the signs of aging, the Vivace Experience® is more than standard microneedling. Vivace Ultra™ is the newest generation of radio frequency microneedling and is FDA-cleared for your safety. Vivace Ultra™ combines traditional microneedling and uniform RF energy with ultrasound visualization and photo mapping to deliver personalized aesthetic beauty treatments for patients looking for a rejuvenated glow.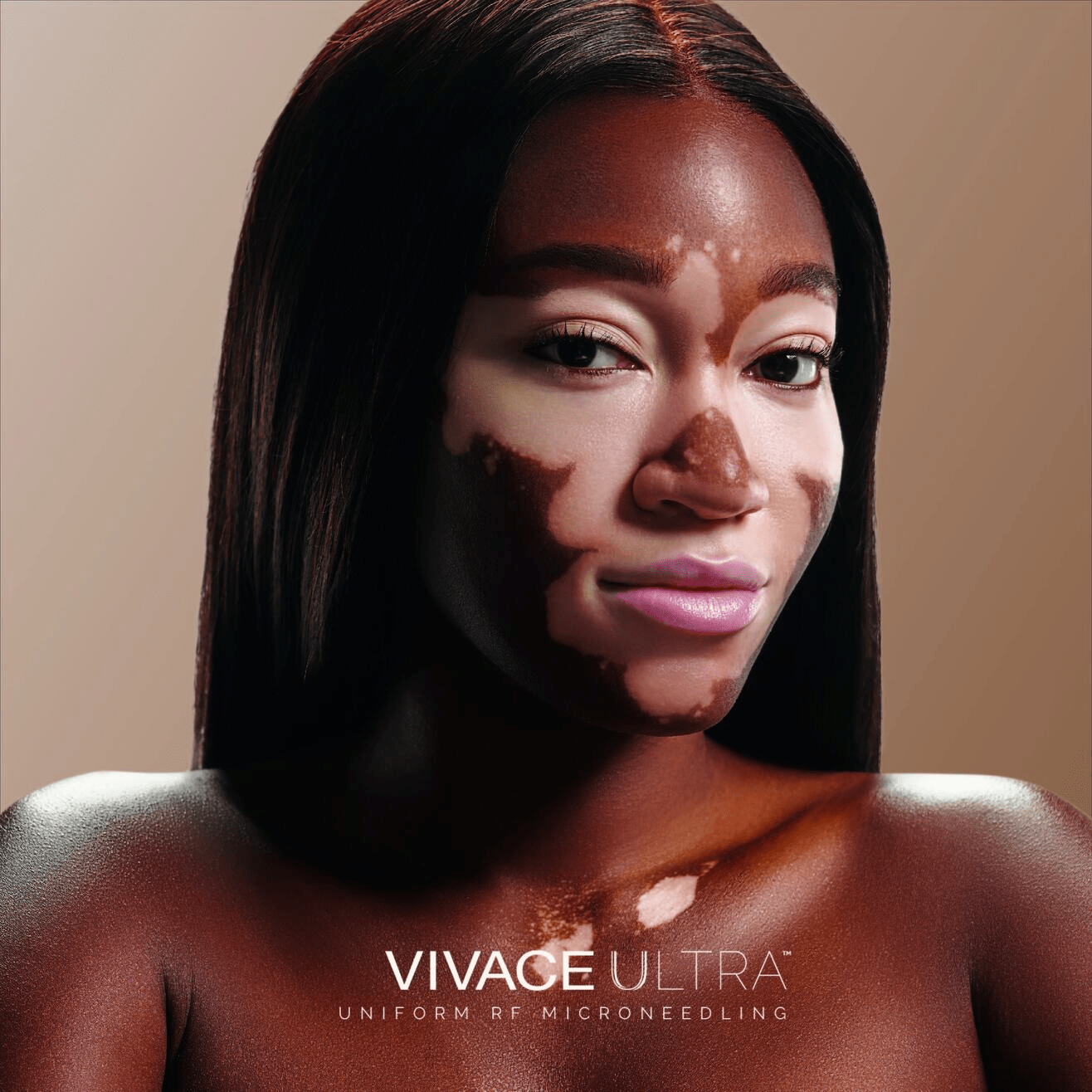 Skin Prepping
Before the treatment, the provider will prepare the patient's skin. First, using a gentle cleanser your provider will remove excess makeup and debris from the skin's surface. Then the provider will apply a topical numbing cream (topical anesthetic cream) to the patient's targeted treatment area(s) for 30-45 minutes. The numbing cream will aid in ensuring the patient is comfortable and virtually pain-free during their treatment. Lastly, the provider will wipe the patient's skin down with water-soaked gauze or a baby wipe and alcohol to ensure the treatment area is sterile and dry before treating.
Skin Mapping
The provider will use the Vivace Ultra™ 'Vision Handpiece' in conjunction with gel to virtually map the layers of the skin and select custom treatment settings for each treatment area.
Microneedling & Radiofrequency
Once the provider has established optimal treatment settings and the appropriate needle sets, the treatment will begin. The device combines microneedling and radiofrequency treatments into a single treatment that provides the benefits of both. The Vivace® Microneedle RF device is FDA-cleared and can treat from light to dark skin types. During the treatment, the microneedling practitioner will use the Vivace Ultra™ microneedling device enabling the 'Precision RF' Handpiece to gently insert gold-plated microneedles into the patient's skin to create collagen-stimulating, micro-injuries. As the needles create micro channels, radiofrequency energy will flow through the needles, stimulating rapid healing.The provider will do 2-3 passes depending on the treatment area(s). Vivace Ultra™ has a series of specially designed features to ensure the patient's safety and comfort. The Vivace Ultra™ has a series of special design features meant to ensure patient safety and comfort.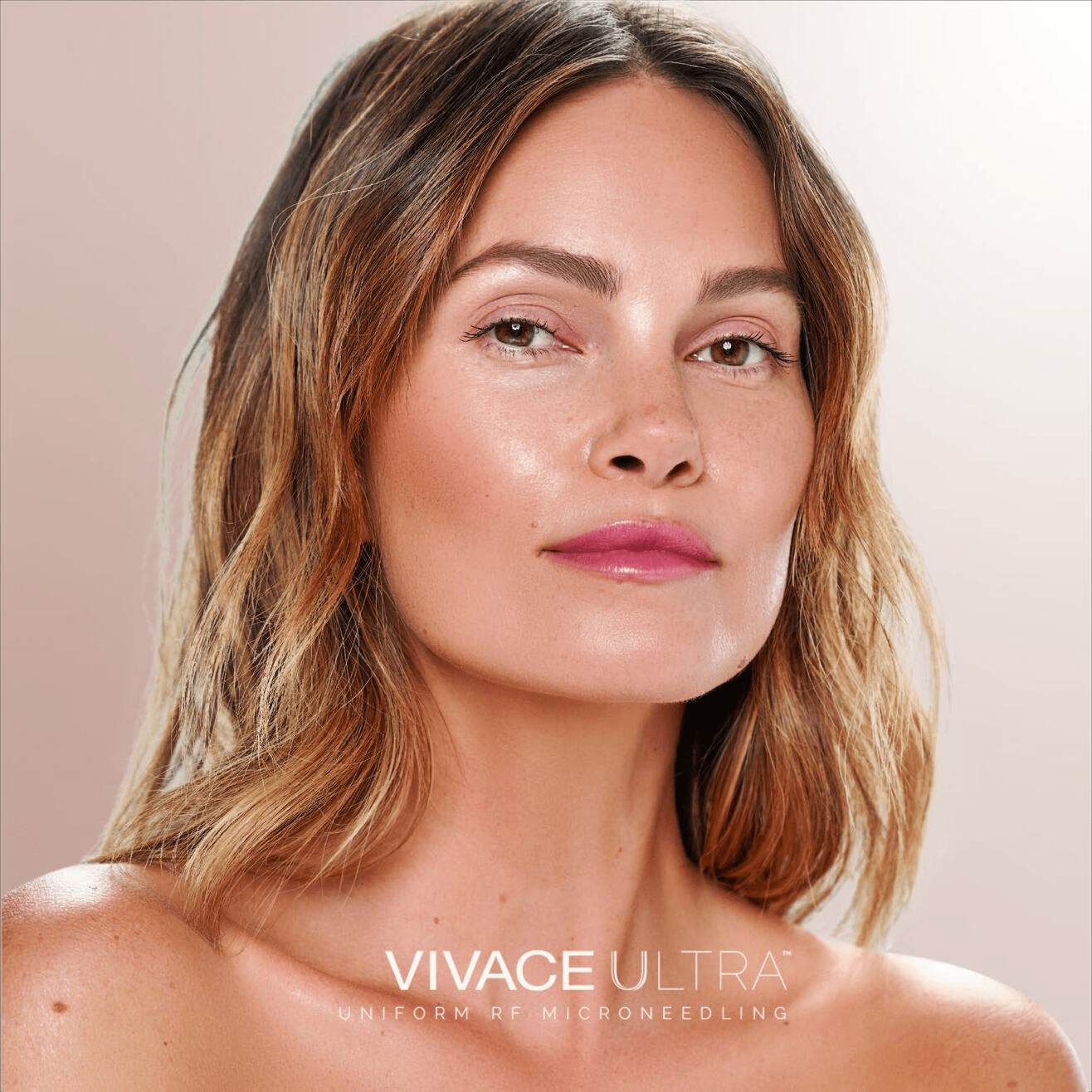 Soothe Mask & Boost Serum
Aesthetics Biomedical's specialized Soothing Mask and Boost Serum are applied at the end of the treatment by your provider. The Soothe Mask contains Binterin (CD99) peptides in a cooling solution. These properties promote faster healing with less skin irritation and calm redness and instantly hydrate. The Soothe Mask reduces any redness and discomfort that may have occurred during the RF enhanced microneedling treatment. Most patients say they love these specialized products which are core to the Vivace Experience® to provide ideal results. After the treatment, patients will be given a specialized boost serum to help their skin heal faster with better hydration.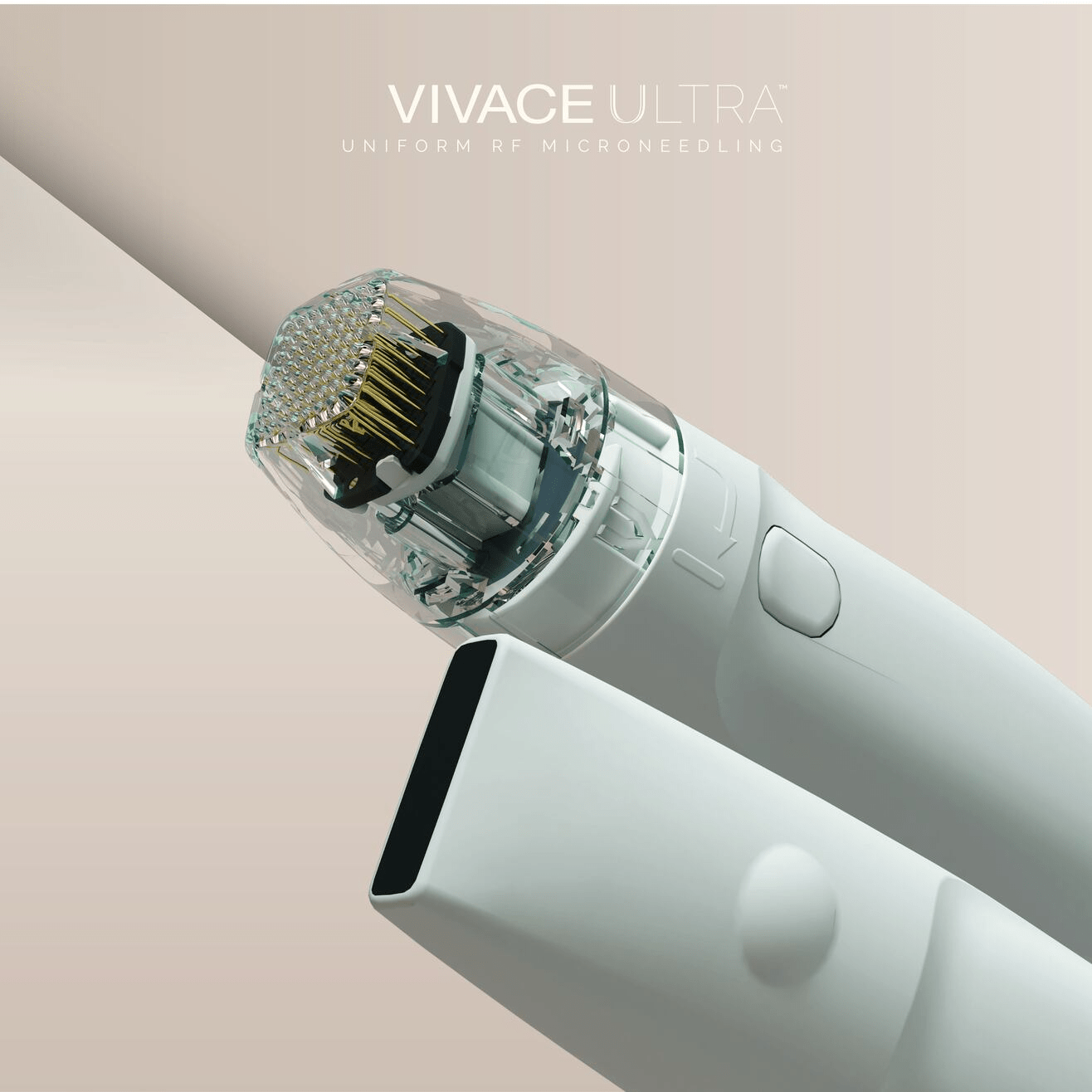 What is recovery like after my Vivace Experience®
One of the major advantages of the Vivace Ultra™ and Vivace Experience® compared to traditional microneedling is a faster recovery period. After the procedure, patients may experience minor redness or swelling in the treatment area. However, this will subside quickly and should be less significant compared to traditional microneedling Unlinke other microneedling treatments, skin redness will not be a significant concern thanks to our specialized Soothing Mask and specially formulated Boost Serum.
Will I experience pain after my Vivace® treatment?
Most patients should not experience pain during or after their procedure. Minor discomfort or sensitivity may occur during the treatment or within the first few days after treatment.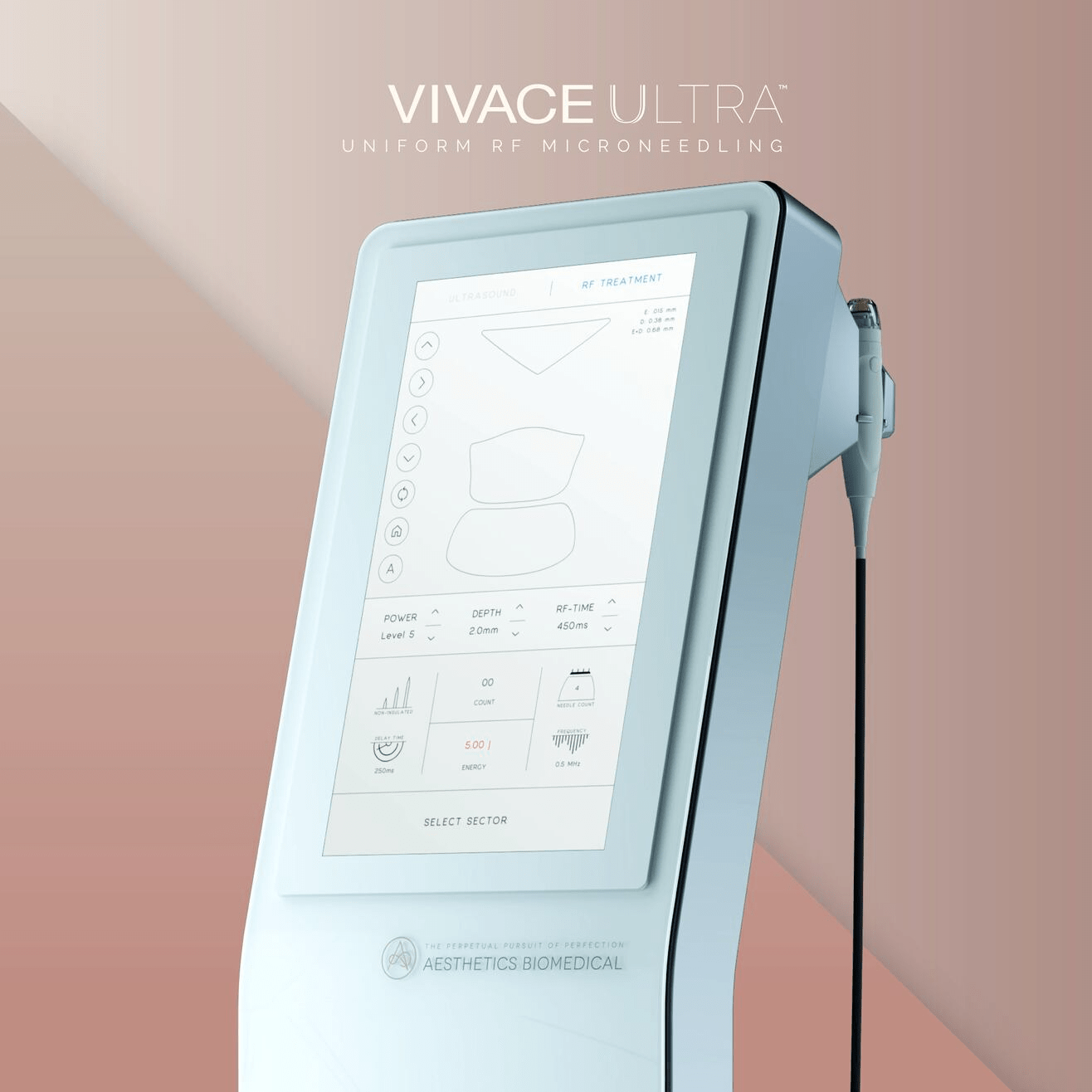 What are the benefits of microneedling?
Reduce Fine Lines and Wrinkles
Microneedling stimulates the growth of collagen and elastin to help the skin stay tight and improve the appearance of fine lines and wrinkles.This means that wrinkles and fine lines will fade in the targeted area in the weeks following your treatment.
Improved Skin Tone and Tone
Microneedling stimulates collagen growth, creating newer and healthier layers of skin. This helps improve skin tone and texture.
Lessen Skin Redness
Aesthetics Biomedical's unique Vivace Experience® treatment includes more than microneedling. Our specialized serums and soothing masks reduce pain and redness and help patients return to normal far faster than traditional microneedling.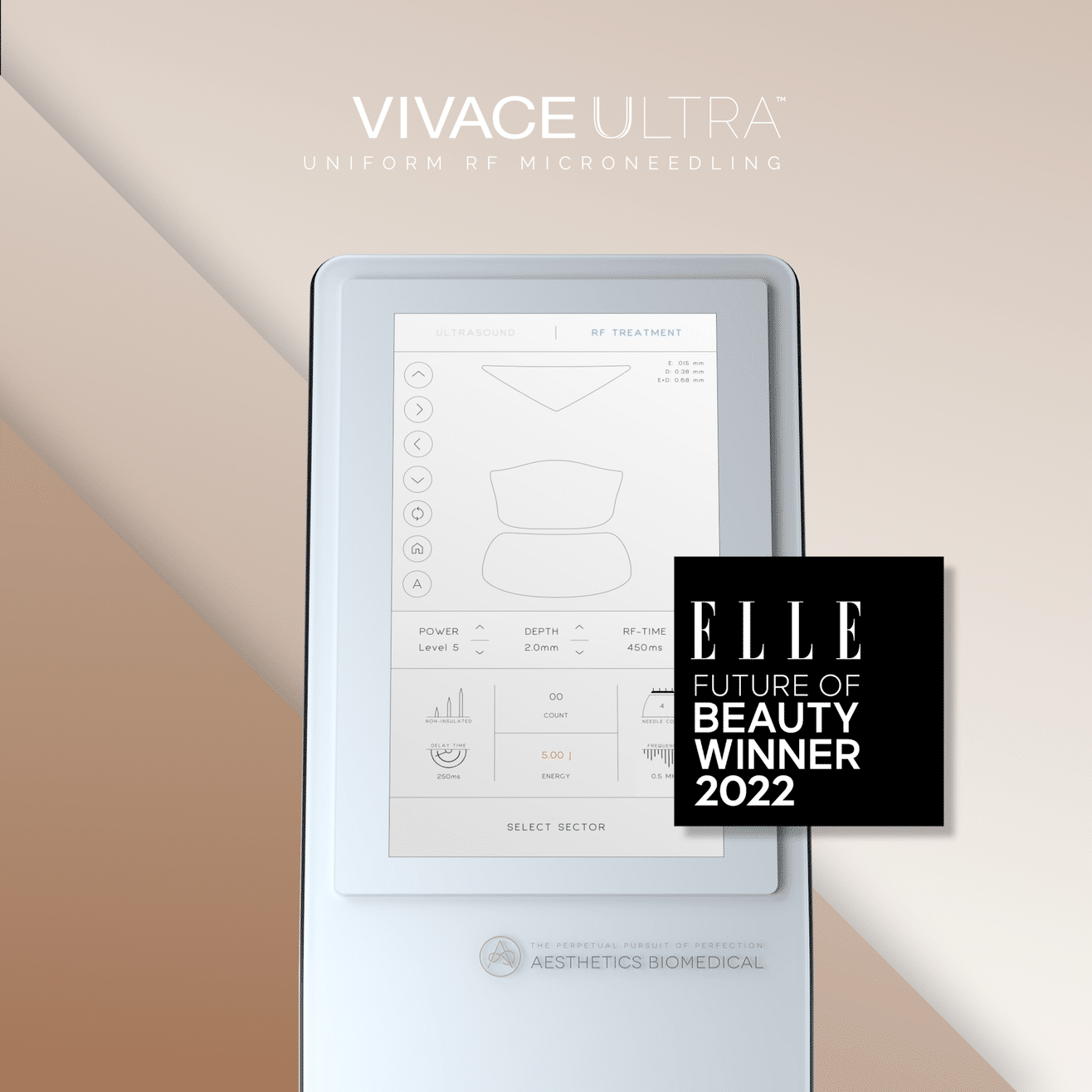 The Vivace Experience® is a new treatment approach that combines traditional microneedling and radiofrequency energy alongside ultrasound visualization and photo mapping with a specialized treatment serum and cooling peptide mask to provide patients with superior, natural-looking results.
No Surgery
Ability To Treat Full Body
Little Downtime
Light to Dark Skin Types
Virtually Pain-Free
Personalized Treatment
Immediate Results
Frequently Asked Questions
Vivace Ultra™ includes industry-first ultrasound visualization and photo mapping that images the skin combined with exclusive uniform RF-enhanced microneedling, a facial mask (Soothe Mask), and post treatment serum (Boost Serum) to provide the most personalized treatment, all working together to provide optimal results. Microneedling costs can vary depending on the size of the treated area. The cost will vary depending on number of areas being treated and how many treatments are recommended by the provider to achieve the patient's desired aesthetic goals. We always recommend scheduling a consultation with your provider to get an estimate or inquire about any packages they may offer.
The Vivace Experience® offers patients the benefits of multiple modalities to offer patients the benefits of both techniques and technologies. This combination allows the provider to custom tailor each treatment in order to safely and effectively stimulate collagen growth across multiple skin layers. Compared to dermal rollers or microneedling pens, Vivace Ultra™ is more precise, sterile, and penetrates deeper with radiofrequency technology. This makes Vivace Ultra™ more effective than traditional microneedling and its predecessor, the Vivace® Microneedle RF.
We choose to incorporate radiofrequency energy into our treatment to provide superior results. RF energy helps tighten skin, stimulate collagen growth, and eliminate fine lines and wrinkles. In other words, it complements microneedling by accomplishing the same results through different means. By using both techniques together, patients receive superior results.
Most patients see long-term results after their final treatment. Patients who schedule annual follow-up and maintenance treatments can see their results last indefinitely. We recommend consulting with your aesthetic provider to see how many treatments will help you achieve your aesthetic goals and how many maintenance treatments are needed to help maintain your results.
Yes, we've partnered with the best skincare brands worldwide to offer specialized post-treatment skincare products from SkinCeuticals and Colorescience. For more information on SkinCeutical's CE Ferulic, used no earlier than 72 hours after your Vivace Experience®, as well as Colorescience's Sunforgettable® Total Protection™ Brush-On SPF 50, ask your aesthetic provider if either of these skincare products are right for you. Learn more at Skinceuticals.com or Colorescience.com
Patients should avoid vigorous exercise for two days following their Vivace Experience®. They should also avoid makeup products and direct sunlight for up to three days. Furthermore, patients should not use exfoliating products for at least a week after treatment.