Precision Bone Support with Vancomycin Integration
The OSTEOmycin V Micro Cancellous Chips are a breakthrough in bone support technology, offering both structural integrity and therapeutic advantages. These chips are specially engineered for precise applications, ensuring maximum efficacy and patient outcomes.
Optimal Size for Precision
With sizes ranging from 0.25-1.5 mm, OSTEOmycin V Micro Cancellous Chips are tailored to fit perfectly into intricate bone voids, providing a natural and seamless fit.
Integrated with Vancomycin
OSTEOmycin V Micro is not just about structural support. By integrating with Vancomycin, a powerful antibiotic, it offers dual benefits. While providing the bone support necessary for recovery, it also ensures a reduced risk of infections, making it ideal for sensitive or high-risk procedures.
Bone Void-Filling Excellence
The micro cancellous chips are meticulously designed for bone void-filling applications. Their unique composition guarantees a robust and natural-feeling structure, promoting optimal bone integration and patient recovery.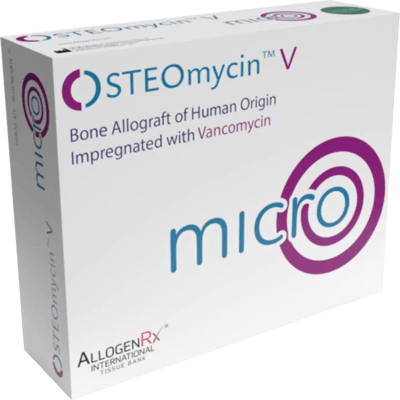 Whether you're dealing with dental & maxillo-facial challenges, intricate surgeries, or any procedure where precision bone support is paramount, OSTEOmycin V Micro Cancellous Chips are the go-to solution for medical professionals seeking the best in both structural and therapeutic bone support.
For comprehensive specifications, application guidelines, and to explore our full range of offerings, please browse our product catalog or contact our dedicated support team.