Advanced Solution for Complex Bone Infections
In the realm of orthopaedic care, addressing bone infections, especially those caused by multi-resistant gram-negative organisms, is a formidable challenge. OSTEOmycin T800 emerges as an innovative solution, uniquely tailored to address these complexities.
OSTEOmycin T800 is specifically designed for patients of concern or those where the infection is caused by multi-resistant gram-negative organisms. This ensures a targeted therapeutic approach tailored to the unique needs of such challenging cases.
Bone Void-Filling Excellence 
Beyond its therapeutic properties, OSTEOmycin T800 stands as a leading solution for bone void-filling. Its design ensures a seamless and robust structure, integrating perfectly with the patient's anatomy.
Whether it's patients who have previously undergone unsuccessful surgeries to address bone infections, cases of compound trauma, or diabetic foot ulcers with associated bone infections, OSTEOmycin T800 offers a robust and effective solution.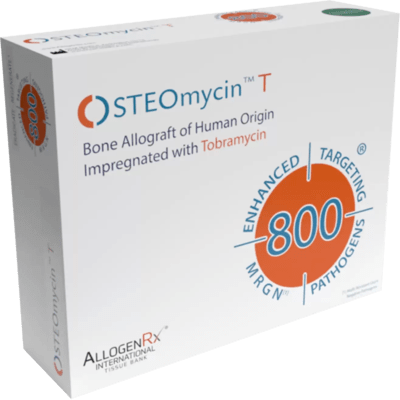 The Significance of OSTEOmycin T800
The challenge of addressing bone infections, particularly those caused by multi-resistant organisms, demands precise and advanced solutions. OSTEOmycin T800, with its unique formulation, offers both therapeutic and structural benefits. Its design ensures that while the bone is provided with the structural support it needs for recovery, the associated infection is addressed effectively.
OSTEOmycin T800 represents the pinnacle of innovation in the field of orthopaedic care, especially in the realm of complex bone infections. As a solution that offers both therapeutic and structural benefits, it stands as a testament to our commitment to excellence, patient well-being, and clinical efficacy.