Precision Bone Support for Multi-Resistant Challenges
OSTEOmycin T800 Micro sets a new standard in bone support technology, especially tailored for challenging medical scenarios involving multi-resistant gram-negative organisms. This product offers a harmonious blend of structural support and therapeutic action, ensuring both stability and safety in diverse medical applications.
Targeted Action Against Multi-Resistant Organisms
Specially designed for patients of concern, OSTEOmycin T800 Micro offers a targeted approach against multi-resistant gram-negative organisms, ensuring a dual layer of protection and bone support.
Optimal Bone Void-Filling
The microstructure of OSTEOmycin T800 ensures that bone voids are filled meticulously, providing a robust and natural-feeling structure that promotes optimal recovery and integration.
Beyond its therapeutic benefits, OSTEOmycin T800 Micro is engineered to provide a durable and resilient structure, making it the preferred choice for medical professionals.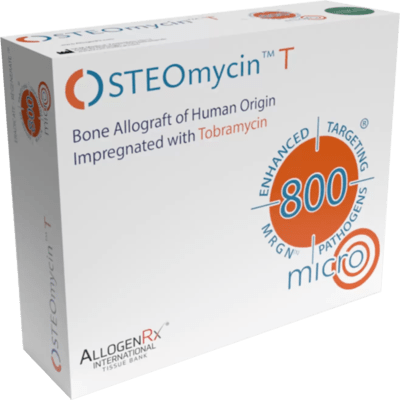 OSTEOmycin T800 Micro finds its utility in a range of medical scenarios, from addressing challenges in the diabetic forefoot (metatarsals) to applications in dental and maxillofacial procedures. It's also an excellent choice for trauma cases, offering both structural support and therapeutic action.
For a deeper dive into specifications, application guidelines, and to explore our full range of product offerings, we invite you to peruse our product catalog or connect with our expert support team.