Concilium Feel is the new range of injectables fillers based on Monophasic Hyaluronic Acid with high elasticity and cohesiveness. That helps to exalt the beauty of any person, achieved only thanks to your professional advice and supervision. Your Made in Italy ally – this is Concilium Feel. A tested, controlled and accessible supply chain. From the medical-aesthetic experience the choice for your professional activity.
Concilium BOOSTER responds to the desire of patients oriented towards less invasive treatments to enhance their image without modifying it, transforming the treatment into a real cure to improve asphyxiated and dehydrated skin by reducing and delaying the signs of aging.
The weakly cross-linked formula makes it ideal for satisfying the need for a quick result in terms of smoothness and brightness. A simple and modular protocol according to the patient's condition and the intensity of the desired effect.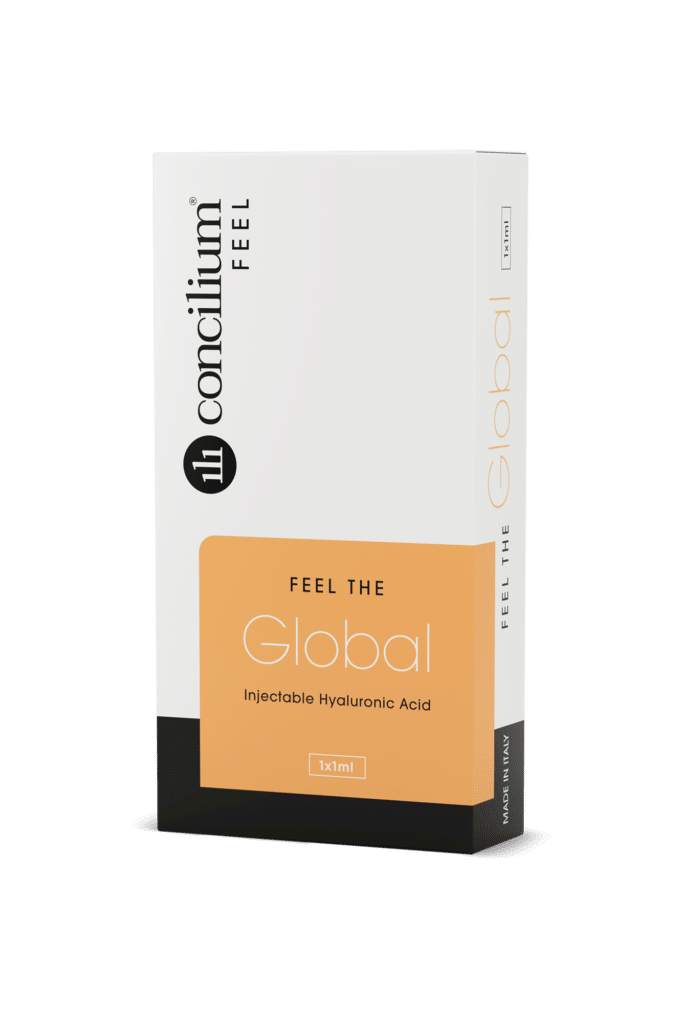 The Feel GLOBAL is an extremely versatile injection treatment particularly suitable for the lines of the "T zone" and for the correction of medium-superficial wrinkles on the face of medium-aged skin.
Ideal for counteracting and prevent the formation of the nasolabial folds and to fight the formation of expression lines as glabella and labio-mental sulcus. Thanks to the particular plasticity, it is likewise indicated to rejuvenate the lips or to correct their balance.
Formula with medium concentration cross linked hyaluronic acid, particularly indicated to correct medium-superficial wrinkles.
DEEP
Concilium DEEP is suitable in case of loss of definition of the oval face caused by the reduction of adipose compartments, progressive muscle relaxation with sliding of skin layers, causing deep folds and wrinkles, as well as an increasingly marked thinning of the skin and subcutis. Deep is ideal for temporal area, reshaping the lips, nose and cheeks, correcting depressions in the buccal area and redefining the jaw line. It is a High concentration cross-linked hyaluronic acid. That makes this formula particularly suitable for the aging problems of mature skin and "smile" area

The Feel VOLUME is suitable to restore or recreate volume, and redefine facial contours. In the treatment of the upper third of the face, it can counteract the emptying of the malar region, restoring the lost fullness.
It is also suitable for restructuring the lower third counteracting the progressive reduction of bone structures restoring the volume lost, as well as re modelling action of the chin profile.
In the range this formula has the highest concentration of hyaluronic acid. Basically it is ideal for deep wrinkles treatment and particularly marked signs of aging with loss of volume.
Concilium BODY is designed to harmonize larger areas of the body such as buttocks, calves and localized depressions.
Its high viscoelasticity gives an optimal projection of the tissues, it does not migrate. Also in the ideal 10 ml format, it is particularly suitable for the correction of wider-spread skin imperfections that affect large volumes and the body. It is contraindicated for facial treatments and for mammary tissue augmentations.